Wellbeing
Wellbeing at Hildenborough CE Primary School
The school is grounded in genuine love and kindness for each other. The carefully tailored and thoughtful pastoral support for pupils ensures all are nurtured. There is a tangible sense of safety and hope, allowing all to flourish.
Wellbeing means how we think about ourselves, our feelings and our lives.
At Hildenborough CE Primary School we are aware of the importance of emotional wellbeing for all of our pupils and staff. We consider wellbeing to be central to positive learning outcomes and a healthy and happy school experience. Therefore, we embed emotional and behavioural wellbeing and positive relationships throughout school life. This is achieved through various experiences and opportunities such as PSHE, assemblies, 'time to talk' and our hugely successful wellbeing week. Our weekly newsletter features a wellbeing activity and we regularly share the Action for Happiness calendar for staff, pupils' and parents.
We promote the 'six ways to wellbeing': Connect, Be Active, Take Notice, Give, Keep Learning and Care for the Planet.
The theme for this month's Action for Happiness Calendar is New Ways November. Trying a new activity can be a great source of happiness! In challenging times, it also helps to take a new perspective or find new ways forward.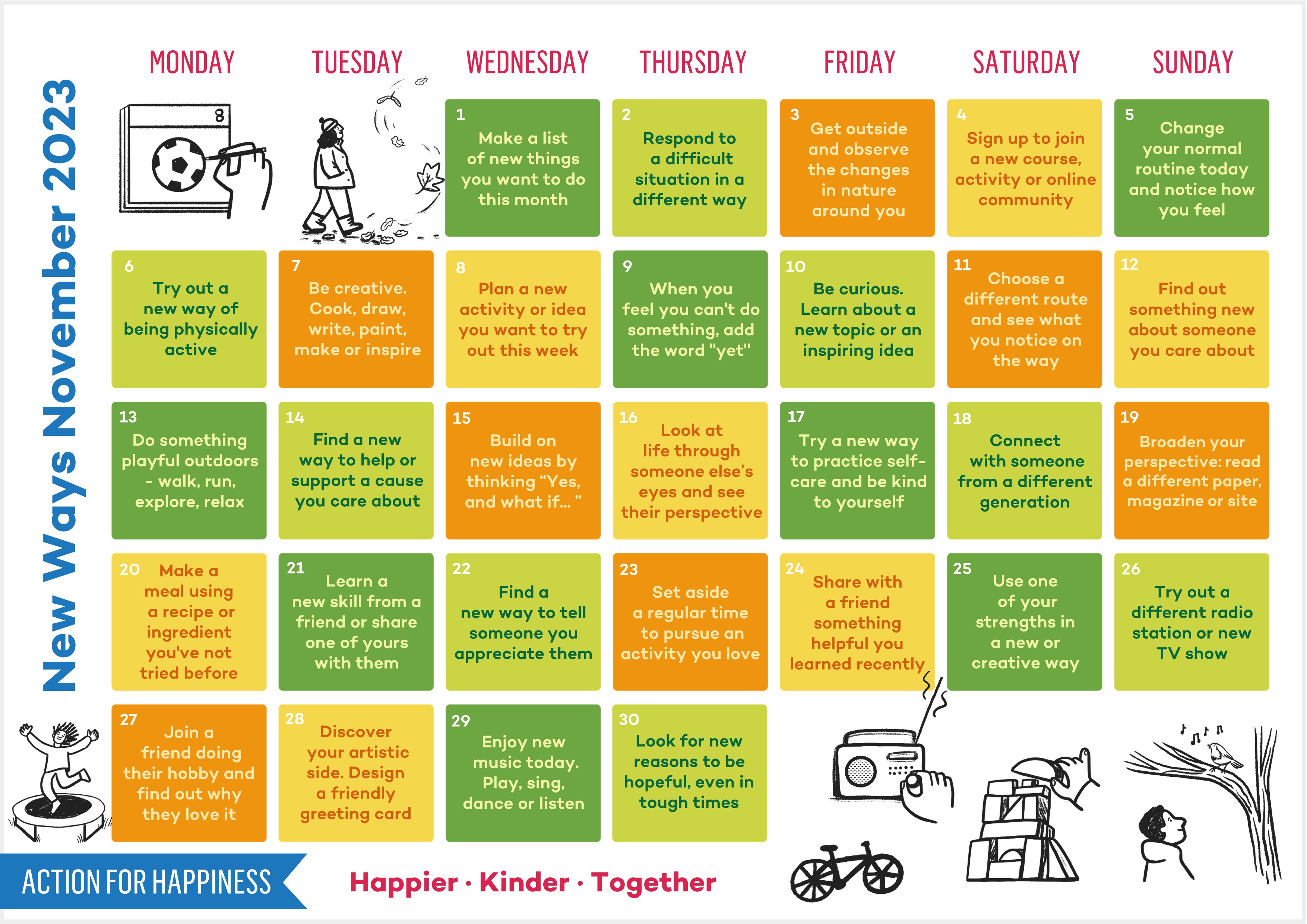 Hildenborough Church of England Primary is a school deeply committed to the wellbeing and development of all in its care.
We know that for a child to achieve and learn, they must feel safe and well in their environment. Children at our school are nurtured and their needs are met by a team of professionals who genuinely care.
For further information and/or support, please take a look at the below links:
https://www.kentcht.nhs.uk/service/school-health/
https://www.nelft.nhs.uk/services-kent-children-young-peoples-mental-health
https://kentresiliencehub.org.uk/
https://youngminds.org.uk
https://www.childline.org.uk/